Select your role within the club and find out what 360SportsIntelligence can do for you.
Expansive reach…

Unique content for sponsors
The automated match summaries displayed in the clubhouse provide an opportunity for commercial advertising. No static content, but a continuous moving image that the visitors are interested in: the sport. An ideal opportunity for sponsors to reach the visitors of your club with their advertisements.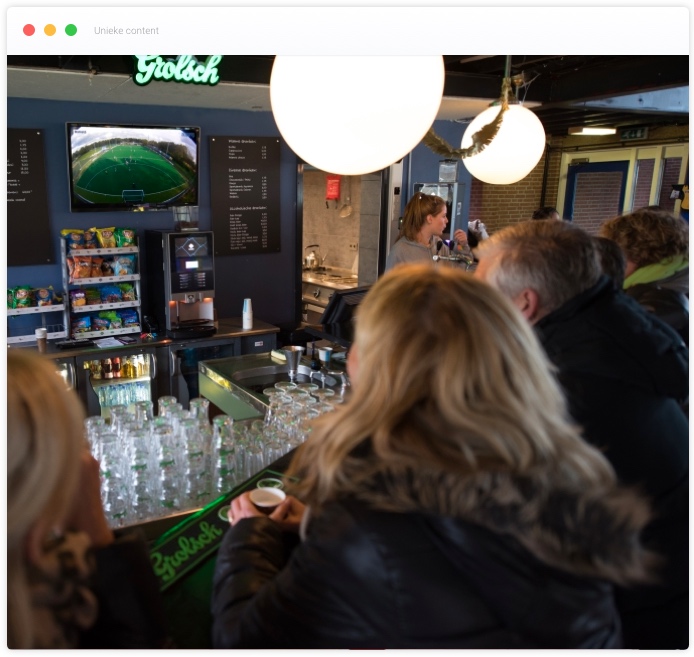 The ultimate club asset
Video analysis for only €250 per month
With six different spaces for sponsor logos available in the match summary, the club has more opportunity to generate sponsorship. With an annual contribution of €500 per logo the investment costs have been paid, and the entire club can enjoy free video analysis. We are also happy to help you recruit new sponsors!
Free demo at your club…
Curious? Request a free demo at your club location
Can you imagine our video analysis system as a sponsorship possibility for your club? We are happy to visit you on site for a demonstration of the possibilities, and to convince you that 360SportsIntelligence will benefit all the members of your club.
The security of your footage is our priority.
Match Summaries
Unique content to display in the clubhouse. Summaries of all the games and all teams for you to use week in, week out.

Footage Belongs to the Club
We ensure that all footage is stored securely for you. The club determines who is allowed access and how the material is shared.
Revenue by Sponsorship
The possibility to include six different sponsor logos in the footage. The club can utilise these spaces to generate new income.
Request a free demo at your club location
We offer you the chance to judge our video analysis system at your club, and view the images with your own eyes. We would be happy to visit you on site for a free demonstration and convince you that 360SportsIntelligence will benefit your club.